The war of emotions in the cartoon Inside Out. The meaning of the cartoon Inside Out is that the inner world of a person is deep and interesting. Emotions accompany us throughout our lives. To make it comfortable, you need to learn how to manage them: otherwise, everything will be the opposite – they will begin to manage us.
Genre : cartoon
Year of production : 2015
Directed by : Pete Docter, Ronaldo Del Carmen
Cast : Amy Poehler, Phyllis Smith, Richard Kind
tagline : "No words, only emotions"
Awards and nominations : Winner in the category "Best Animated Film"
What is the cartoon about
Description of the content of the cartoon Inside Out. The plot centers on Riley Anderson, an 11-year-old girl who is trying to make friends with the emotions living in her brain center – Joy, Sadness, Fear, Anger and Disgust.
That is, at first she is friends with them, but after moving to a new place of residence, her world collapses – as well as relationships with her parents, and at the same time with herself.
Riley's think tank has its own life. There, two basic emotions of the girl come into conflict – Sadness and Joy. Roughly finding out the relationship, they fall into long-term memory, as a result of which Riley falls into apathy, and the structure of her personality undergoes adverse changes.
Meanwhile, the remaining emotions try to control the girl's life. However, being under their influence, she behaves destructively: having quarreled with her parents, she steals money from them and decides to run away from home – that is, to return to where she spent her childhood.
Closer to the finale, important changes take place in Riley's inner world: Joy and Sadness realize the importance of each other, reconcile, and together return to the think tank. With their appearance, chaos turns into order.
Jigsaw cartoon characters
The following characters appear in the cartoon "Inside Out":
Riley Anderson. The central character of the cartoon is a girl who is going through the first serious crisis and is growing up at the same time.
Mr Anderson. Riley's father, having problems both at work and in the family. The predominant emotion at the time of the quarrel with the daughter is Anger.
Mrs Anderson. Riley's mother. In the conflict with Riley, she unsuccessfully tried to find at least some kind of compromise. Therefore, her predominant emotion was sadness.
Joy. I sincerely wanted Riley to always remain cheerful and joyful;
Sadness. The antagonist of Joy, who eventually found her place in Riley's think tank and helped put things in order in the girl's head;
Bingo Bongo. Riley's imaginary childhood friend.
Also in the cartoon "Inside Out" are the following characters:
disgust;
Anger;
Fear;
Unicorn (idol of Joy);
Meg (Riley's friend);
Clown Bald (the hero from Riley's nightmares);
Memory cleaners (the main inhabitants of Riley's subconscious).
Inside Out Ending explanation
The explanation for the ending is pretty simple. At the end of the cartoon "Inside Out", Joy and Sadness restore the almost completely destroyed structure of the personality of their mistress. So Riley returns home halfway through, reconciles with her parents, and admits her mistakes. After that, her life begins to gradually improve.
That is, the meaning of the ending of the cartoon "Inside Out" is that a person does not have "unnecessary" emotions – they are all necessary for the normal functioning of the brain.
cartoon meaning of Inside Out
Sadness… For some reason, when it comes to this emotion, it is perceived extremely negatively. It is customary to diligently hide it and not show it in public.
In society, there is the following attitude: if a person thinks positively and knows how to rejoice, then in the end he will be able to achieve everything he wants. The one who often succumbs to sadness is considered a loser …
The essence of the movie "Inside Out" is how it is sometimes necessary to look into your own head and understand what is happening there.
Inside Out is first and foremost a coming-of-age story. Riley Anderson enters her teenage years and faces real problems for the first time in her life. What used to please her leaves her indifferent, or worse, makes her angry.
Her brain is trying to forget her childhood. The clue to the somewhat extravagant behavior of the girl lies in the fact that she understands that childhood is over and she needs to say goodbye to him. At the same time, she does not want this and is afraid of the new that has suddenly fallen upon her.
Everything seems to be under control in the girl's head, although a revolution is brewing there: Joy, which was previously sincerely convinced that it is the most important emotion, suddenly comes into conflict with Sadness and this leads to serious consequences.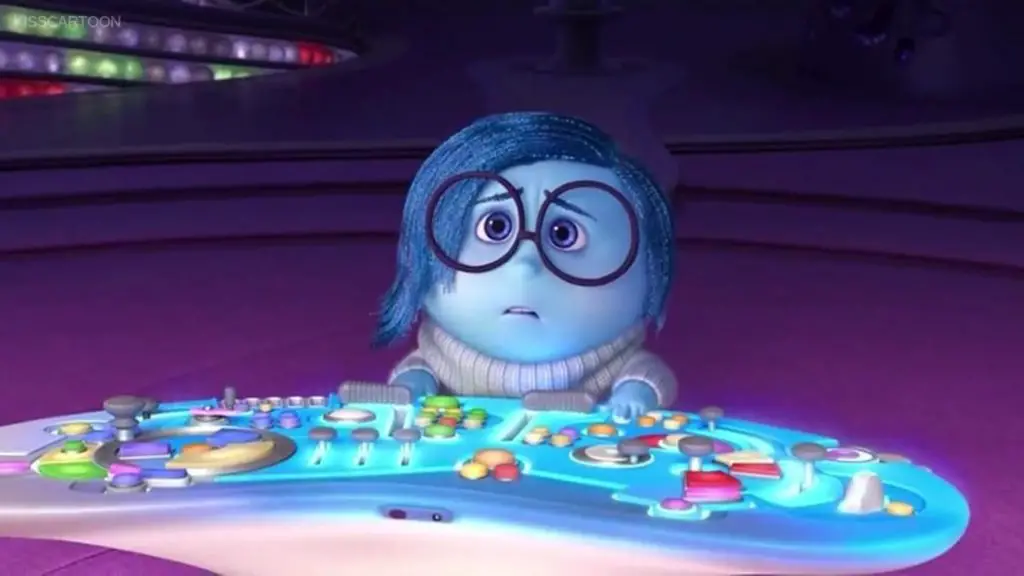 The meaning of this conflict is rooted in the real world, in which there is a cult of Positive Thinking. Every now and then we hear: "Up your nose!", Or "You need to have fun and everything will pass." That is, the installation is promoted: no matter how you feel, smile and go positive …
In their debriefing, viewers notice that Joy is the monopoly in Riley's head. She does not allow anyone to the control panel. The girl, meanwhile, is trying to suppress Sadness – after all, she was constantly taught that succumbing to "bad" emotions is bad.
It was only when faced with real problems that Riley felt that Joy was no help here. But what exactly should be done, she did not understand. This led to the conflict of Joy and Sadness in the think tank.
The point is that the events in the girl's head are a mirror image of what happens to her in reality. That is, we can say that Joy is her alter ego.
To understand the nature of Sadness, you need to refer to the work of C. Jung, "Archetype and Symbol". A Swiss psychologist writes about the Shadow – that is, about a certain part of our personality that we are trying to absorb and not notice.
In Jung's opinion, neglecting the Shadow leads to personality misalignment, which is what happened to Riley. In this regard, we can give such an interpretation of the image of Sadness: this is the Shadow of Riley Anderson, which is not a problem, but is mistakenly perceived as such. Riley's consciousness returns to normal only when she accepts the "shadow" side of her life and allows herself to be sad.
Inside Out is a fairly simple cartoon, and you should not look for any hidden meaning in it. The picture criticizes false installations. However, it is not about looking for the positive in everything. The main idea of ​​the cartoon is just that a sad situation is beautiful in itself, because it gives us a new experience.
There is another important thought in Inside Out. It lies in the fact that only by maintaining a balance in emotions, we can develop normally.
Suppressing or giving priority to one thing, we ultimately face huge psychological problems. Therefore, no matter how hackneyed it may sound, it is necessary to be yourself and allow yourself to adequately respond to all aspects of our lives.
Similar cartoons
Here are a few cartoons similar in meaning to Inside Out:
"Soul" (USA, 2020). Joe Gardner dreamed of the stage all his life, and yet he continued to work at the school. Having died stupidly, he finds himself in another world and there he unexpectedly finds his true calling;
Toy Story (USA, 1995). Children believe that their toys have a life of their own. So it is: moreover, many toys are desperately afraid of being forgotten and unnecessary, and they try to do everything to prevent this from happening;
Monsters, Inc. (USA, 2001). Monsters have a difficult job: they have to scare children. But one day a child got into their world, and real chaos ensued in the lives of the monsters.